Candidate Forum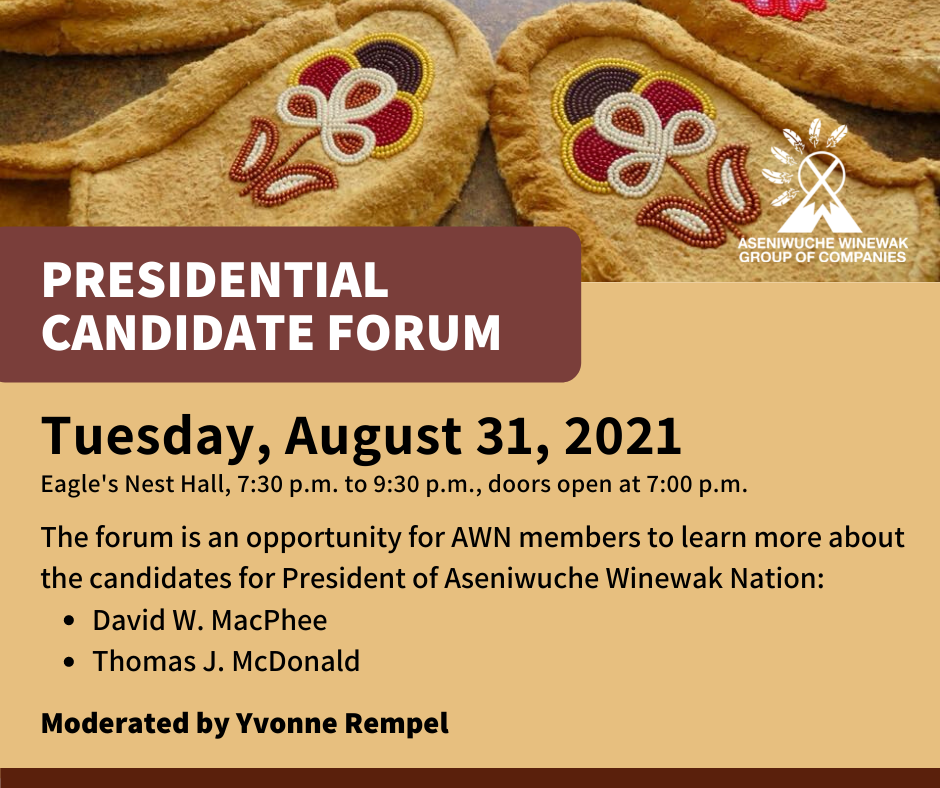 Event Information:
The Candidate Forum is an opportunity for Aseniwuche community members to listen to the two candidates for President speak and answer questions from the community. Moderated by Yvonne Rempel.
Date: Tuesday, August 31, 2021
Time: Doors open at 7:00 p.m., Forum begins at 7:30 p.m.
Location: Eagle's Nest Hall - 10028 99 Street
Additional Information:
Doors will open at 7:00 p.m., at which time community members may find a seat and prepare any questions they have for the Candidates. Questions must meet the below criteria and will be selected at random. The Moderator will be the sole decision-maker on whether a question meets the criteria to be included in the Forum.

The question is appropriate and relevant to AWN;
The question is written from an unbiased voice;
The question can be appropriately answered by both Candidates.

Candidates will flip a coin to decide who responds first to the first question. Following opening remarks, the Moderator will ask five pre-determined questions. The winner of the coin toss has three minutes to respond to the question. At the two-minute mark, the Moderator will indicate there is one minute remaining. Candidates will be permitted to go over the three-minute response period by no more than 30 seconds, at which point, the Moderator will turn the floor over to the other Candidate who has three minutes to respond.
The Moderator will allow two minutes for the first Candidate to respond, then turn the floor over to the other Candidate for two minutes. After both Candidates have had two opportunities totalling five minutes to respond, the Moderator will proceed to the next question. The Candidate who did not qin the coin toss will get to respond first, and the Candidates will continue to alternate for the remainder of the Forum.
After the five questions have been asked and responded to, the Moderator will pull questions from the public at random. Candidates will have two and a half minutes each to respond to the public questions. There will be no time allotted for follow-up responses to allow for as many public questions as possible. The Moderator will end the Forum at 9:30 p.m. If Candidates are still finishing their responses at 9:30 p.m., the Moderator will end the Forum immediately after the last Candidate finishes responding to the last question.
Pre-determined questions (the Candidates have already been given the questions):
1. How do you see AWN changing over the next several years, and how do you see yourself creating that change?
2. How would you characterize the board's role in AWN as an organization?
3. What do you think is AWN's greatest challenge, and what approach will you take to address it?
4. Reflecting on your respective terms as President of AWN, what do you consider your greatest success?
5. Why should AWN members elect you as President of the Aseniwuche Winewak Nation?