Children's Christmas Gift Program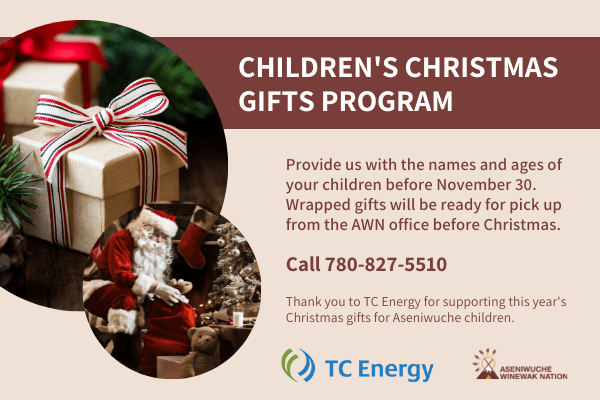 Event Information:
Every year, AWN is fortunate to have the opportunity to help member families with presents for children and youth ages 10 and under. This year, with the generous support of TC Energy and Santa, AWN will have a wrapped gift ready to put under the tree.
If you are an AWN parent, guardian or caregiver with children ages 10 or younger, please call Reception at 780-827-5510 to ensure we have the appropriate details for your family including names, ages, and contact details. We'll share information on our Facebook page when gifts are ready to be picked up.
Thank you to TC Energy and Guardian Drugs (Grande Cache) for making this program possible.
Date: TBA
Time: Pick up between 9:00 a.m. and 4:00 p.m.
Location: 10020 99 Street
Additional Information: