For Students
Kiskinwahamâkosiwin ᑭᐢᑭᓌᐦᐊᒫᑯᓯᐏᐣ Learning
Aseniwuche Winewak Nation Educational Assistance & Scholarships for Community Members
Learning is an endless journey. AWN encourages community members to take opportunities to learn whether they are just getting started or are continuing to pursue training and education in their chosen field. Courses and post-secondary programs can be expensive and we understand that tuition and school fees can be a deterring factor.
Read More
The AWN Educational Assistance and Scholarships are available for community members enrolled in professional development, trades, apprenticeships, continuing education, college, technical school, or university in the following amounts as per AWN Policy 4.12:
Professional development
Maximum $500 per year
Trade or Apprenticeship
Maximum $800 per year
Adult Continuing Education
Maximum $1000 per year
College or Technical School
Maximum $2000 per year
University

maximum $1500 university entrance
maximum $2000 2nd year
maximum $3,000 3rd & 4th year
Funding is awarded on a first come first serve basis until annual funding is exhausted. To be eligible to receive educational assistance or a scholarship, the applicant must meet the following requirements:
Be an AWN member and a resident of the Grande Cache area Co-operatives, Enterprises or Hamlet of Grande Cache.
Have completed the requirements for high school graduation in Alberta or have received mature student status from the institution being applied to.
Applications can be picked up from the AWN office or downloaded here. Completed applications can be mailed, hand delivered or emailed along with the following required documents:
Proof of enrollment
Official transcripts
One (1) reference letter highlighting the applicant's experience, involvement, and connection with the Aseniwuche Winewak community over the last 12 months.
Letter from the applicant describing why they are qualified to receive funding, their current community involvement including volunteer or cultural activities, academic achievements, and goals upon completion of the post-secondary program the funding is being applied for.
Demonstrate financial need (for AWN Educational Assistance, not required for AWN Scholarship applications)
For more information about the AWN Educational Assistance and Scholarships, please call 780-827-5510 or email info@aseniwuche.com.
Submit Applications:
In Person
10020 99 Street
Grande Cache, AB Monday - Friday
8:30 a.m. - 5:00 p.m.
By Mail
PO Box 1808
Grande Cache, AB
T0E 0Y0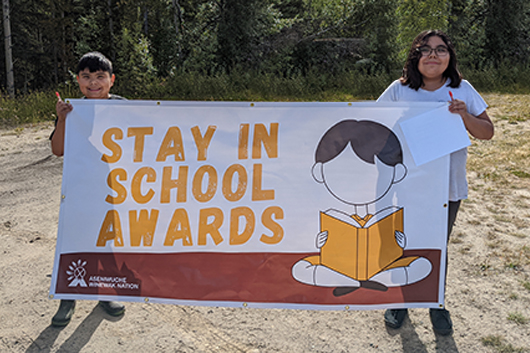 Every year, Aseniwuche Winewak Nation celebrates and acknowledges the accomplishments of our community's students with our Stay in School Awards. We have been hosting the Stay in School Awards for nearly two decades to recognize our students' efforts to complete their education. Traditionally, Indigenous communities honoured important rites of passage in a young person's life. They celebrated the passing of important milestones with the support of the entire community. AWN created the Stay in School Awards to acknowledge and encourage our children's passage through the school system. At the beginning of the school year, AWN presents a certificate and small token of recognition to congratulate students on the previous grade completed and to encourage them to stay in school and continue to do well in the new school year.
Schools often award students for high academic or athletic achievement, and rightly so. However, there is a significant population of youth who apply a commendable effort day in and day out and go unrecognized. In our community, there are many children who experience issues at home including substance abuse, violence, poverty and taking on caregiving responsibilities. Despite challenges in their personal lives, these students continue to come to school and commit their best. The Stay in School Awards is our opportunity to acknowledge these students, encourage them, and promote the importance of learning and getting an education.
Class 5 Driver Education & Road Test Reimbursement
Note:
Due to COVID-19 restrictions, the Class 5 Driver's Training program is not currently available. Applicants will be contacted in the order in which applications were received once the program resumes.
Getting your driver's license is one of life's greatest milestones. Having sufficient practice behind the wheel and learning the rules of the road are essential for passing the Class 5 Road Test and being a safe and reliable driver. Through Summit Driving Training,  AWN will cover the cost for eligible community members to enrol in the Class 5 Package which includes 15 hours of classroom training and 10 hours of in-car training with an instructor. Upon successful completion of the course, drivers will receive the Notice of Driver Education Course Completion Certificate which can be presented to the insurance provider for a discount in fees.
Read More
The course requires applicants to spend five days in Grande Prairie. Accommodations and transportation to and from Grande Prairie are provided by AWN. To apply for the AWN Class 5 Driver Education program, please submit the following in person, by mail, or by email:
Copy of current Class 7 Operator's License
When you are ready to take your Class 5 Road Test, AWN will reimburse AWN members for the cost to book a test appointment. Submit a copy of the receipt and include a name, mailing address, and contact information.
Please note that AWN will reimburse Class 5 Road Tests one time only regardless of pass or fail.
Submit Class 5 Driver Education Applications or Class 5 Road Test Receipts:
In Person
10020 99 Street
Grande Cache, AB Monday - Friday
8:30 a.m. - 5:00 p.m.
By Mail
PO Box 1808
Grande Cache, AB
T0E 0Y0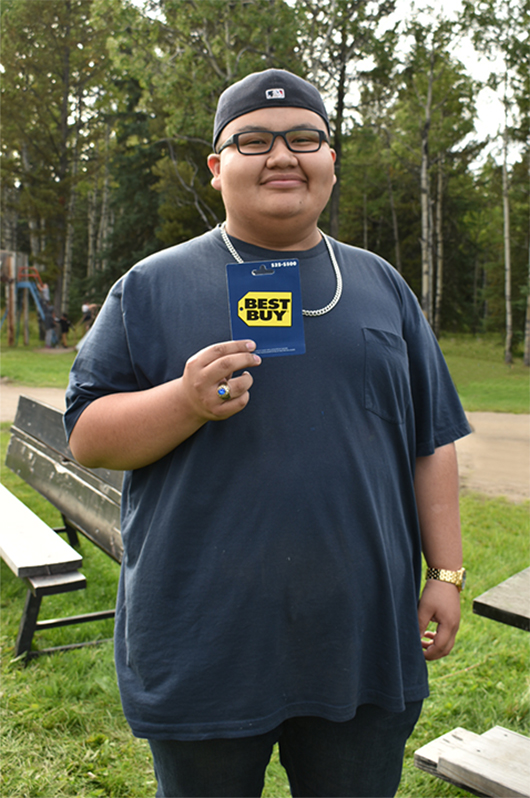 Other Scholarships & Opportunities
There are great opportunities available for Indigenous youth and students pursuing post-secondary education and training. For help preparing scholarship applications, contact the AWN office at 780-827-5510 or info@aseniwuche.com.